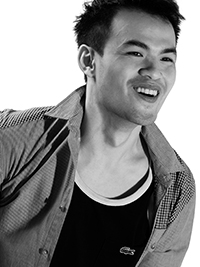 Tang has been passionate about dance since he was young. He has a degree in Tourism Management but it doesn't stop him from dancing. He started learning many different styles of dances including Jazz, Ballet and Ballroom Dance before finding his niche to teach dance for exercise.
He specializes in Jazz, Rock n' Roll, Body Jam, Dancercise, Aero Jazz and Body Improvement. His teaching style is very passionate and energetic.
Tang is one of the first few instructors in Thailand to become a licensed Zumba Instructor. He is currently licensed to teach Zumba®, Zumba®Toning, and Zumba®Gold. Tang always keeps learning to add new ideas and concepts to his classes. He is also certified to teach Pilates mat and Pilates Reformer.