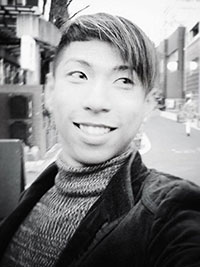 "I believe that we were born with a good heart and I wanted to keep it that way as long as I could do. Being a dance teacher isoneof the things I would do for life..."To work as a dance teacher, he found himself knowing how toinspire himself tobe able to inspire others and that makes him became a positive and gently stronger person.
He believes that all his movements in dance, in life, in his taste of music could heal or help people from struggle. Once he knows dancing and then he found himself could do a lot more than he thinks he could do. To share some parts of him, he decided to put them into different types of art form to the audience.
He got two years honor from King Rama 10's project "Christmas Charity"Itis about helping disable or homeless kids in Bangkok He was once invited toco-perform Broadway Jazz in Jakarta, Indonesia in "Hip Hop meets Broadway Program" Now heis a dancing teacher, teaching several styles of dancing in Bangkok and also another province in Thailand.