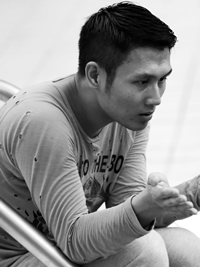 Born 1974 in Bangkok, Jitti Chompee graduated in Chemical Engineering from Chulalongkorn University in 1994. He trained in classical ballet at Varaporn-Kanchana Ballet School. In 1988, he was awarded a scholarship from the Jean M. Wong School of Ballet in Hong Kong to travel to Paris, where he studied Modern Jazz. From 2000 to 2001 he attended the Alvin Ailey School in New York as a full time scholarship student, where he studied various styles of dance, with a strong focus on Modern Dance and Neo-Classical Ballet.
Jitti Chompee has worked with choreographers and directors such as Ismael Ivo, Marcia Haydee, Rafiga Akhundova, William Morgan, and Luca Bruni. He has danced for the Bangkok Ballet Theater Company, MTV New York, Lest Ballet Persans in Stockholm, and Oplas Teatro in Italy.
He created the duo like him and protect him for AIDS Help 2000, and the pieces Tombe' du lit and Remember what you have done in 24 hours for the Patravadi Theatre in 2007.
He is selected and supported by the Goethe Institute of Thailand to be an outstanding young choreographer in Thailand and produced the Ministry of Truth production in Bangkok and Berlin in 2010.