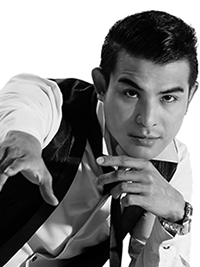 Nonn is a professional dancer who specializes in Hip Hop and stage performances. Grammy Entertainment discovered him when he applied for "The Star" project in 2001 and was selected to train in Ballet, Jazz, Tap, Hip Hop and acting.
Nonn has become one of the top leading dancers for Grammy Entertainment. He has performed with many top Thai singers such as Byrd Thongchai McIntyre, Marsha Wattanapanich, Katreeya English, Mai Chareonpura, Christina Aguilar and Bee the Star. He has performed in numerous concerts, worked with Thailand's top choreographers and created choreography for many major events. Nonn was selected to dance for HRH Princess Ubonrat in the "To Be Number One" project.
At rumPUREE, Nonn teaches Pole Dance, Striptease and MV Dance classes. His teaching style is very dynamic and inspiring. Nonn breaks down choreography in detail so students can understand and follow easily.