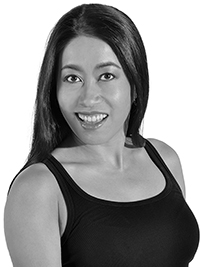 Apple is a native Thai who found her passion for dancing after graduating from the Harvard Graduate School of Design. She studied with top Salsa instructors in New York such as Eddie Torres, Frankie Martinez, Santo Rico, Carlos Konig, Duplessy Walker, and Jimmy Anton. After many years of Salsa, she expanded her horizon to Bellydance, traveling and studying extensively with Nourhan & Yoursry Sharif, Tamalyn Dallal, Suhaila Salimpour, Bellyqueen, Tito, Aida Nour, Nevin Ramirez, Mahmoud Reda, Sera Solstice, Mardi Love, Rachel Brice, Sharon Kihara, and Fat Chance Bellydance.
Her interest also includes Carnival Samba, Samba de Gafiera, Zouk, Afro-Cuban, Afro-Caribbean, Argentine Tango, Striptease, Pole Dancing and Modern Dance. She has traveled to Cuba, London, Buenos Aires, Dominican Republic, Egypt, and Guadeloupe to explore the roots of various world dances.
Between 2001-2004, she seriously trained and partnered with Aochan Nagamoto from Tropical NY (www.tropicalnewyork.com) where she was an assistant and teaching in New York City. Since 2001, Apple has been teaching and performing New York Salsa, Bellydance and Afro-Caribbean in various international locations such as New York, New Orleans, Tokyo, Delhi, Bangalore, Hong Kong, Singapore, Bhutan, and Myanmar.
Some of her performances include New Orleans Dance Festival (Afro-Caribbean), Hong Kong Salsa Festival (Salsa), Paradizo Dance Theatre with Dave Paris & Zoe Klein (Salsa), NYC 10th Annual Oriental Dance Gala (Bellydance), International India Dance Festival (Afro-Caribbean), Singapore International Salsa Festival (Salsa), and the Taj Bar New York (Bellydance).
In 2006, Apple founded rumPUREE – world dance studio in Bangkok, Thailand. She is the organizer of Salsabangkok Fiesta, the yearly Salsa festival to promote Salsa and Latin dance in Thailand as well as Dance the World in One Day (DWOD), the dance showcase to promote world dance to wider audiences in Thailand.
Apple is a pioneer in Thailand's dance community. She has introduced various dance styles such as Bellydance, Afro-Caribbean, Zouk, Samba De Gafieira, Swing, Striptease and Pole Dance. She created "Raks rumPUREE", Thailand's first premier professional Bellydance troupe and brought the team to reach the semi-finals in Thailand's Got Talent season 3 TV program.