Mayuko (Imanishi)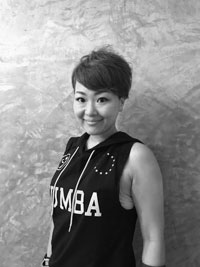 Mayuko is from Osaka, Japan and she moved to Thailand in 2005.She found out there are many kinds of dances in the world when she was a high school student. She wanted to try much different kind of dances, but didn't know where to start.
She met Zumba Fitness in 2010, and fell in love with it, because it had everything what she was looking for. She became a Zumba Instructor in 2013, and now she is licensed to teach Zumba Fitness, Zumba Kids/Kids Jr., Zumba Gold, and STRONG by Zumba.
She is ready to share with you her LOVE for Zumba. Forget about your daily concerns, meet the new songs, rhythms, cultures and make new friends. Do not worry! Anyone and everyone is Welcome. That is exactly what the Zumba Program is all about. It's easy-to-follow, Latin-inspired, calorie-burning dance fitness-party™ that is gathering millions of people towards joy and health. Come, have fun, and let's fill the studio and your day with smiles and laughter.